Executive Coaching & Business Mentoring
The Mallows Company recognises that your greatest asset is your staff and that realising their potential is critical to your business success!
With increasing competition and cost pressures, we also know that companies are being forced to become 'business resilient', facing tough decisions on staffing levels or simply demanding more from their existing personnel. Yet motivating people to go the extra mile with incentives such as enhanced pay and benefits or promotional opportunities is no longer always feasible.
Through our team of highly qualified and experienced coaches and mentors, we offer a confidential service that can be uniquely tailored to your company's key issues to achieve defined deliverables and measurable outcomes.
We do this by:
Focussing on real business challenges such that positive outcomes have a direct impact on your business success
Developing leadership behaviours to encourage improved team performance
Stimulating innovation and creativity to prompt solutions-focussed approaches and lateral thinking
Ensuring personal ownership of the solutions and a willingness to implement them
Better performance leads to greater confidence which in turn means the uncertainties of change are viewed as opportunity rather than a threat. Confidence and positivity are also infectious and will spread throughout the team, such that your company sees an exponential return on its investment.
"The support and guidance we've received from The Mallows Company in developing and progressing our business strategy has been fantastic. They helped in so many ways from managing changes in the workforce to assisting with marketing. They highlighted issues we'd not thought of gave us the tools to deal with them. We wouldn't have achieved what we have without them and can't recommend them highly enough."
 Liz McGrory – Co-Director, Sandwell UK Ltd.
Our Tweets
Only 2 weeks to go until our ❤️Love Your Career❤️ ROSE Jobs and Careers Fair at Wellingborough Library. If you're looking for a new job or to boost your career prospects in 2018 come and see us! No need to register, its free to attend and child-friendly too 😀#careers
#skills
https://t.co/GyDfRCkQCd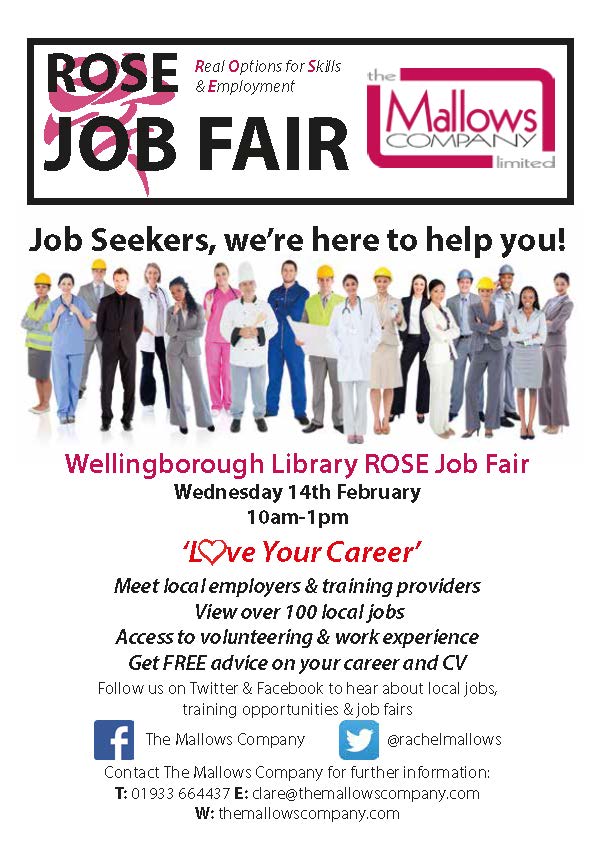 @The Mallows Company