Information, Advice and Guidance for Employers
Outplacement
Redundancy can be a difficult time and, with so many different offers of support for individuals and companies, it can be confusing to know how to access help for your staff.
As with the majority of employers, it is likely that you will have no previous experience of handling wide-scale redundancy programmes and are unsure of the best way to support the staff affected.
Through our team of specialist advisers, we can offer support not only to you as you face that process, but also to those being made redundant, helping your staff on the first steps towards finding alternative employment.
We will work with you and your business to offer information, advice, guidance, support and training, helping employees by:

Identifying their skills, experience and strengths
Helping them to understand the job market
Assisting in creating their CV and covering letter
Improving their interview skills and job search skills
Building their confidence
Offering careers advice, particularly looking at retraining, self-employment or returning to education
Managing the stress of change
We can also help with assessment centres, psychometric profiling and career coaching.
Such outplacement services can be tailored to the individual in order to meet their specific needs and timeframes, or alternatively offered in group sessions to suit your budget.
Recruitment
We can help you with your recruitment of staff in a number of ways:
Advertise your job with us for free of change (we will promote it through social media and at events with clients)
Supporting you as you write Job Descriptions, Person Specifications and Advertisements.
Handling applications, sifting and interviewing first stage (or any one aspect of this)
Second Stage interviewing – with you – including setting up appropriate tests and skills assessment.
Please note that some of this may be eligible under our funded programmes and therefore free of charge to you. Please call us for more details.
If you have any queries contact : Ilham@themallowscompany.com
If you would like to take advantage of our offer and use our service or if you have any queries, please email: Ilham@themallowscompany.com
Our Tweets
Only 2 weeks to go until our ❤️Love Your Career❤️ ROSE Jobs and Careers Fair at Wellingborough Library. If you're looking for a new job or to boost your career prospects in 2018 come and see us! No need to register, its free to attend and child-friendly too 😀#careers
#skills
https://t.co/GyDfRCkQCd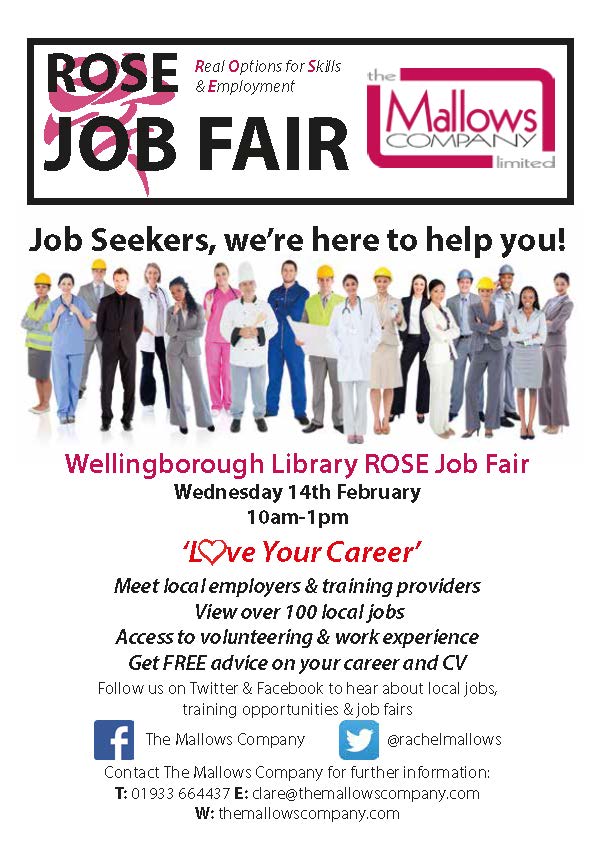 @The Mallows Company